NO JUSTICE/NO PEACE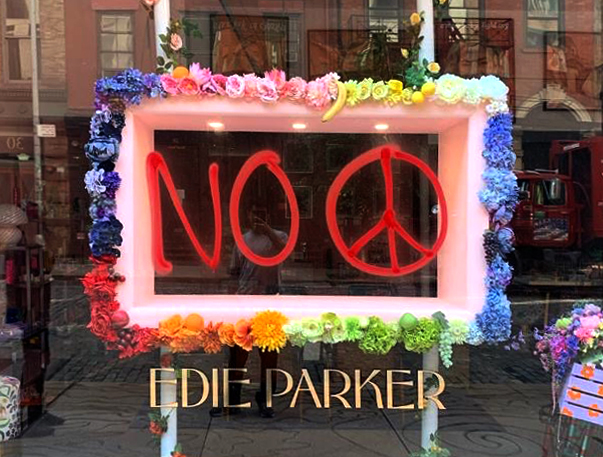 Hello there. We are Edie Parker and Flower by Edie Parker.
We are a small, female-founded, female-run brand. We craft pretty things that make you happy, and we offer Flower products that are unapologetically 'For a Good Time'.
But life is not always 'For a good time'. We know that. We stand with Black Lives Matter and paused our regularly scheduled programming this week to support the movement.
Since we launched nearly ten years ago, Edie Parker has always supported social service organizations that primarily focus on women and children. We have done it both publicly, through sales and promotions, and privately, through our founder.

When preparing to launch Flower more than a year ago, we became even more aware of how communities of color are so disproportionately impacted by racist enforcement of cannabis laws. To help, we launched the Edie Parker Foundation, which was granted 501c3 status this spring. Over the past year, we partnered with the Women's Prison Association (WPA) to help women and children whose lives have been torn apart due to low level drug offenses.

During the Covid-19 crisis, through weekly sample sales, we raised thousands of dollars for the WPA and other organizations including No Kid Hungry, City Meals on Wheels, Feeding America and Good Plus. These sales also helped keep our lights on and our small team employed.
We want to do more.

In addition to the above, we made a donation to the The Bail Project last week. As we move forward, we will continue our work with the WPA, and we would like to hear from you about other organizations we can support while we return to our primary work of handcrafting special products.

We are a small business with less than 10 full time employees. Our survival depends on sales. Our brand mission has always been to be a bright spot in a complicated and often uncertain world. Our products are unique. We want them to lift your spirits, make you smile, and last for generations. Life is serious, but your accessories don't have to be.

Going forward, while we are committed to social justice, we will once again try to bring you some levity with product emails and instagram posts.

Xx,
Brett Heyman and the EP Team